2 DAYS IN VIENNA – THE ULTIMATE GUIDE
2 DAYS IN VIENNA – THE ULTIMATE GUIDE
Ohhhh Vieeeennnaaa. . . If like us, you'd only heard of Vienna due to Ultravox then you'll also land on Austria's doorstep unsure what to expect. Expect an eclectic array of old meets new from your 2 days in Vienna – from the architecture to café culture, graffiti to Gustav Klimt. From outdoor opera in Summer to the world famous Christmas market in Winter – Vienna ticks all boxes.
We sang and we schnitzel'd our way round this stunning city and thanks to this Vienna 2 day itinerary, you can too. Ideal city escape for art lovers, food lovers or just you know, lover lovers.
SPEND
How Much To Budget For Vienna
Our budget for 2 days in Vienna was £70 per day (for both of us.) Our actual spend was £98 per day. This was due to us having limited time so sticking to the super touristy stuff which we wanted to tick off our bucketlist. It is definitely possible to do it cheaper if you have time to search for the hidden gems.
We took Flixbus from Ljubljana to Vienna (approx. 5 hours) for £22.90 each.
It is also just over an hour (and crazy cheap) to travel from Vienna to Bratislava.
If you only have 2 days in Vienna, we recommend spending £12 (each) on a 48 hour unlimited travel cards as it worked out cheaper. As we'd never been on a tram before (yes, we're that weird) and the Wiener Linien 48 hour pass allowed transport on trams and trains we felt it was the best way to explore the city (Available here).
How much did we spend in total round Europe?
We spent 3 months backpacking Europe and wrote a post on the full details of our route – 12 countries (15 cities) and how much we spent. With costs divided into accommodation, food, transport and activities – all displayed in sexy pie charts with a free downloadable budget tracker thrown in!
SLEEP
Where To Stay In Vienna
It's no secret that the city is an expensive place to sleep, however your 2 days in Vienna don't have to break the bank.  We found a funky little gem that deserves a solid 5 gold stars/pat on the back/10 points to Gryffindor. Meininger Hotel Wien Downtown Franz is a modern mix of hostel meets hotel with quirky decor and contemporary areas to work and chill.
We were there for 2 nights for £40.28 per night – so approx. £20 each!
This hotel also has the bonus of a well equipped kitchen if you wanna save the pennies and cook your own meals. Great location also as it was within walking distance to the canal, underground station and a mere 22 minutes to Stephansplatz.
They also allowed us to leave our luggage in a secure room all day as the bus to Bratislava didn't leave until 7:30pm – extra Brownie points!
SCOFF
Where To Eat In Vienna
Spending 2 days in Vienna without sampling Schnitzel, is like visiting Paris without seeing the Eiffel Tower. So, for once in our lives we actually did a little research on where the best schnitzel spot may be and discovered the top two.
We rocked up at Purstner only to be told there's no room at the inn (cue angry "told you we should've booked" frowns from a starving Daz.) However, it was a blessing in disguise as our next choice Figlmuller was perfect, so we believe it was fate and all that mystical jazz.
Figlmuller has two locations – Figlmuller Wollzeile & Figlmuller Backerstrasse. We arrived at Wollzeile to be told it was full (now cue Darren's feed me or I'm going to die face) however it's a short 5 minute walk to their sister venue – Backerstrasse – so our Schnitzel mission was finally over.
Darren opted for veal schnitzel and I'd pork. To us, they tasted very similar and we struggled to finish they were that big. Served with two rather large beers because, Austria and a side salad because, balance. The waiter was particularly friendly, even offering us a balcony table when it became available but we enjoyed our cosy quiet spot at the back. Make sure to squeeze in some schnitzel during your 2 days in Vienna.
If looking for where to eat in Vienna, then slap bang in tourist trap territory at Stephansplatz isn't probably your first choice. However, Aida Café was so retro, pink and insta-worthy it was impossible not to stop and yes, Darren got dragged in a tad against his will.
That was until he saw the library of desserts and cakes that Mr Kipling could only dream of. Even for a self-confessed cake queen, it took a good 20 minutes to make a decision. As I was leaving/dragged from the premises I snapped a photo from the top of the stairs and noticed even her socks were pink – WHERE DO I HAND MY CV?!
Check out some of the best cakes that we ate during our Europe trip on our Bucharest city break post.
SIP
Recommended Bars In Vienna
No 2 days in Vienna would be complete without sampling a beer or two. What surprised us was the level of head the Austrian beers had. An unusual proportion of the glass was froth which we thought to be a one off thing, but it seemed to be the norm compared to our frown-at-froth ways at home.
We particularly enjoyed Ottakringer which was common in the majority of eateries and bars.
SNAP
Best Photo Spots In Vienna
Just realised how arty farty this post has become (you were warned it's one for the art lovers.) However, if you have time during your 2 days in Vienna to squeeze in one final favourite Austrian artist, Hundertwasser then we definitely recommend it!
Since studying The Lollipop Trees in High School his colourful and childlike style has always fascinated me. Even if you thought Hundertwasser House was named after a football player (Darren, looking at you) it is worth a visit regardless.
Designed with the help of architect Josef Krawina, it is located in the Landstraße district on the corner of Kegelgasse and Löwengasse.  The bold exterior, colourful curves and likely bus tour or two will instantly grab your attention. Access to the building itself is limited as it's mainly apartments and offices however there are unique little gift shops and a cafe all following the vibrant Hundertwasser theme. Definitely a worthy snap stop during your 2 days in Vienna.
For more photos of our adventure, please take a peek at our Austria gallery.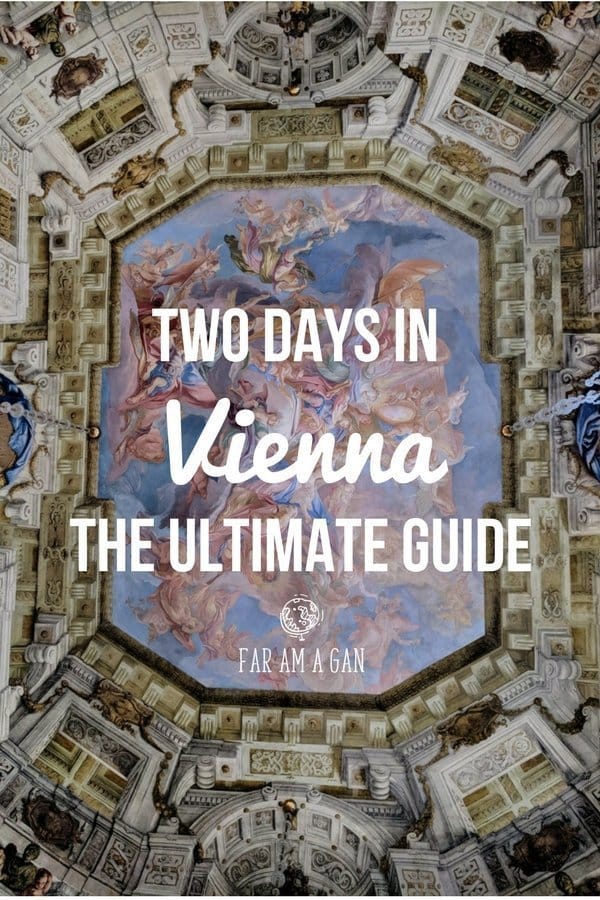 Please note this post may contain affiliate links, which add no extra cost to your purchase and earns us a small commission.