BEST SPA BREAKS FOR COUPLES IN EUROPE
BEST SPA BREAKS FOR COUPLES IN EUROPE
It's no secret we dabble with the flashpacker lifestyle. Champagne lifestyle, Cava budget is our way of life which has resulted in quite a few spa days during our travels. This post is to not only list our top spa breaks for couples but shares the best spas in Europe based on budget, atmosphere and fun factor.
A little R & R does the world of good but shouldn't cost the earth, so we have also included a few money saving tips! Just because you are travelling on a budget does not mean you can't indulge in a couples spa day and these European spa days are some of our favourite memories from travelling we guarantee they will be yours too!
Related Content
Curious as to how we maintain the champagne lifestyle on a Cava budget? Read our post on how much backpacking Europe cost us, to learn EXACTLY how much we spent on food, accommodation, transport & activities during our 3 months in Europe.
THERME BUCHAREST, ROMANIA
Admittedly, this was our favourite European Spa from the entire list as so few people have heard of it and it was incredibly cheap despite the luxurious atmosphere! Therme Bucharest was a definite highlight from our Backpacking Europe trip and we would return in a heartbeat.
Bucharest is such a vibrant, fascinating city with Therme Bucuresti the cherry on-top, making it one of the best couples spa day we've ever had!
Firstly at 30,000 sqm and 8 pools, Spa Bucuresti is enormous! There are pools inside and out, divided into 3 areas. This reminded us of the fun factor of the blue lagoon – you can watch the sun go down and bathe under the stars. The only difference, a pint in Therme Bucharest was a mere £2 not £7! We loved watching the pink sky reflect on the pool, whilst relaxing in the outdoor bar areas.  Then we headed inside where the stunning lights transformed the spa into a kingdom of colour.
Therme Bucharest is divided into three areas:
The Palm – Named due to the surplus 500 palm trees. This is the heart of the spa, complete with heated beds and therapeutic pools. Each pool had different minerals offering various benefits for your skin and well being. Also no children are allowed in The Palm for added relaxation making it the perfect couples spa day.
The Elysium – This was our favourite area as it was home to 6 themed saunas. Including a Nordic style sauna where you entered sub zero temperatures naked, a Himalaya sauna lined with Himalayan salt walls and The Hollywood Sauna. The Hollywood sauna played David Attenborough wildlife documentaries on a cinema screen as you sat and baked in the heat. Completely surreal!
The Galaxy – The entertainment area aimed at children, with flumes and a wave pool. Needless to say we enjoyed it a little more than we should have. Who said a couples spa day can't involve racing down flumes? It definitely adds to the serenity of Therme Bucharest, that this is the only area with children. The other areas are strictly adults only.
Price Of Therme Bucharest
Therme Bucharest prices are amazing value for money. A child's ticket is 50 Lei and Therme Bucharest prices for adults are 96 Lei (approx. £18) for an all day ticket.
Similar to the Blue Lagoon you are given an electronic bracelet which all purchases are loaded onto. It is not only the entry fee which is cheap, Therme Bucharest prices are all very affordable. The swim up bars offer beers for around £2 a pint and cocktails approx £4 making it one of the best spa breaks for couples due to it's affordability! All together now. . . Champagne lifestyle, Cava budgets.
Atmosphere Rating: 10/10
Due to it's huge size (30,000 sqm) there were so many hidden spots in Therme Bucharest to relax in complete privacy. The saunas and pools were never crowded and the staff were all so friendly.
Money Saving Tips
Outdoor shoes were not allowed in the changing areas, so we had to purchase flip flops there. You could bring your own to save money!
With our Therme Bucharest visit lasting 7 hours, you'd maybe agree we got great value for money with our full day ticket. There are cheaper options for 3 hour tickets, or tickets for just certain areas if you are on a time (and money) budget!
LES BAINS DE LA GRUYERE, SWITZERLAND
We stayed with a local family in Switzerland thanks to Workaway. It is an amazing scheme, where in return for food and accommodation you volunteer a few hours a day. We were so fortunate to stay with such a kind family who ran a glamping site with luxury treehouses. As a treat, they booked us into Les Bains de la Gruyere which was a European spa experience we'll never forget.
Read more on how you can stay in over 170 countries worldwide for free as well as our top tips to ensure your dream host says yes, in our Workaway guide.
Located at an altitude of 900m in Charmey, Les Bains de la Gruyère has most breathtaking backdrop of the mountains of la Gruyère and during Winter, the spa is surrounded by snow. As we visited Switzerland in October the pre-alpine landscape was insanely beautiful, trees a fiery orange and the temperature crisp making the outdoor thermal pool even more inviting. Depending on the season, the natural spring water which is rich in mineral salts, is heated to 34ºC.
Les Bains de la Gruyère have three large swimming pools with two indoor and one outdoor, all with stunning panoramic views of the Swiss countryside. There is also an array of water features such as swan-neck showers, mini whirlpools, massage nozzles and jets. There is Nordic and Oriental steam baths such as sauna, hammam and Turkish baths, as well as several areas to relax and soak up the tranquil atmosphere.
This is one of the most romantic couples spa days that we have had. You can even turn that spa day into a full couples spa break, as mere metres minutes away is Hotel Callier. This means you can wake up to the stunning surroundings before bathing in the spa's calming waters. You can check out availability of the hotel here.
Price Of Les Bains de la Gruyere
We booked the 3 hour ticket and felt this was the perfect amount of time. We timed it during sunset for added wow factor and loved watching the landscape and spa transform under darkness. Les Bains de la Gruyère is open until 9pm on weekdays and later on weekends. Ticket prices are as follows:
26F for a 3 hour ticket (approx. £20)
37F for a 5 hour ticket (approx. £30)
Fun Factor Rating: 7/10
Due to the idyllic spot in the most serene landscape you visit for the view, not the fun factor. Unlike our other European spa visits for once, there was no swim up bar or alcohol heightening the health factor and adding to the serenity. All in all, perhaps a tad too grown up for us two backpackers.
For an added fun factor, the Callier chocolate factory is a mere 10 minute drive. Spend your morning indulging in the exciting history of Callier (with unlimited samples) before a relaxing afternoon at Les Bains de la Gruyère. The ultimate Swiss experience!
Atmosphere Rating: 10/10
As mentioned, the intention of this European spa is pure relaxation and the ability to soak up the clear Swiss air. No cameras are even allowed which added to the tranquillity as there was no fighting with selfie sticks or distractions. Simply us and the beautiful Swiss countryside.
Money Saving Tips
We would recommend booking the cheaper ticket for 3 hours as this was more than enough time at Bains de la Gruyère.
If you are looking for a truly special couples spa day attend on a Friday (between October till March) as they host a Candlelight evening. At no extra cost (entry fee is the same as normal) the outdoor pool is transformed by candlelight creating an even more romantic feel to this unique spa.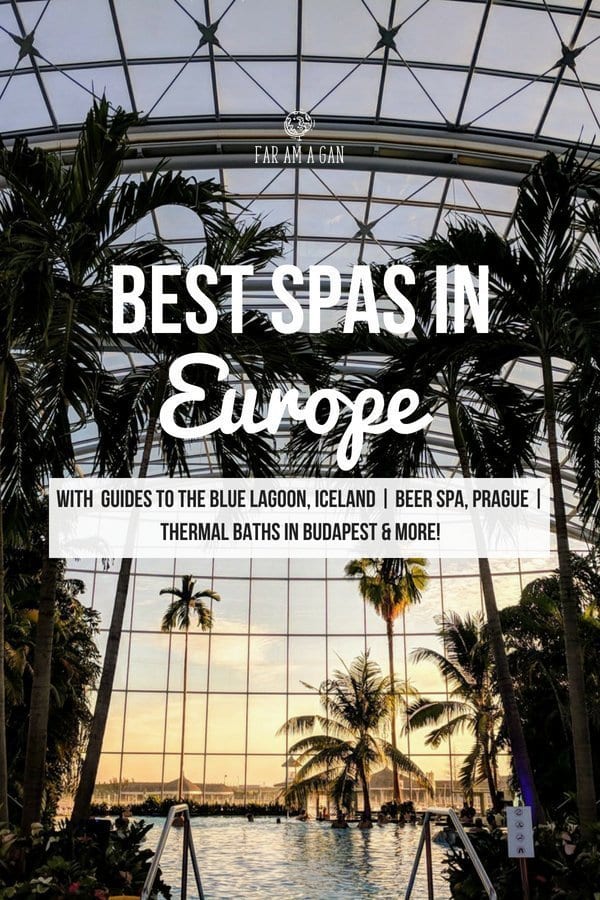 Please note this post may contain affiliate links, which add no extra cost to your purchase but earns us a small commission.