Imagine being the youngest person to visit every country in the world and then being asked to choose your favourite place. James Asquith (founder of app Holiday Swap) did just that, and his response? Lake Bled, Slovenia. If we had to choose, our Lake Bled day trip would be a definite highlight from our 3 month European tour. This guide covers Ljubljana to Lake Bled and although Bled steals most of the limelight, Ljubljana was one of the most surprising cities of our entire trip. We expected a quaint, tourist town instead we were mesmerised by a stunning city with unbelievable food, people and architecture.
SPEND
How much to budget for Ljubljana
As we decided to visit Lake Bled in Winter, travel prices were crazy cheap! We took a Flixbus from Venice to Ljubljana for £14 each (it took approx. 4 hours). Our budget was £60 per day but our actual spend was £98 because the food was simply too good and the idiot flashpackers we are, wined & dined ourselves silly.
 SLEEP 
Best accommodation in Ljubljana
OH Apartments & Rooms. We paid £27.50 per night (2 nights) for a huge double bed and one of the nicest hosts we have ever dealt with. He offered many recommendations for things to do in Ljubljana as well as bus times and insider tips for Ljubljana to Lake Bled. The room was en-suite with a fabulous shower, hair dryer, fluffy white towels, tea & coffee – what more could you want for less than £15 each per night?!
 SCOFF 
Recommended restaurants in Ljubljana
It was a 10-15 minute walk into the town centre, where by the river were numerous restaurants and bars all with outside seating. If like us, you're a sucker for eating outdoors (particularly when there's heated lamps and even heaters built into table legs!) then Ljubljana has nailed Winter alfresco.
Wandering along the riverside – both still snuffling from our cold a few days previous – Slovenska Hisa instantly looked inviting, with its fluffy faux fur seats and oodles of locals with spotty pots of tea outside. As self-confessed brunch snobs this place did not disappoint. We both had scrambled eggs with various local meats and ample fresh bread with those spotty pots of tea included all for a grand total of €5 yes, FIVE EUROS each. Later I discovered Slovenska Hisa featured in Culture Trip's Top 10 Brunch Spots for Ljubljana, proving it rightly deserves our brunch snob appreciation.
A culinary high five also goes to Pop's Place, Burger Bar – as it says on the tin these guys made incredible burgers with a craft beer menu to match. The beer choice was so good we simply shut our eyes and pointed (although the waiter was very helpful with recommendations). If you fancy yourself as a craft beer connoisseur and enjoy reasonably priced food in very hipster-esque surroundings, then this is your spot.
For the classy sorts (like we sometimes pretend we are) we recommend the restaurant Julija.  Although a more linen table cloth/better to book type affair, the pricing was very reasonable (even by two Scots' standards). We didn't book, but did get the last table so it's worth inquiring ahead. Daz would've gave it 5 stars for the waiter's appreciation of Scottish Football fans alone. It was also bustling with locals which always says something about a restaurant's reputation. For unbeatable goulash, traditional cheese dumplings and even complimentary Teranov Liker aperitifs then we cannot recommend Julija enough.
 SIP 
Recommended bars in Ljubljana
We were pleasantly surprised how many wine tasting tours were offered here. On our last day there was a wine event where you paid €5 deposit for your glass and a supplementary couple of euros for each glass of wine, with stalls of local wineries conga-ing all over the town centre. The event was named Ljubljana Wine Route and marks St. Martin's Day, when, according to Slovenian tradition, grapes must officially turn to wine (anyone else agree this should officially be a law!?). Ljubljana Wine Route brings together winemakers from all the wine-growing regions of Slovenia and occurs November 4th & November 11th (double check next year's dates if planning a trip here in the future!)
Not in town during the Ljubljana Wine Route?
Instead, do a food & wine tour in Ljubljana any time of year! Enjoy 3.5 hours sampling over 9 traditional dishes and 4 wines whilst learning the city's history through your taste buds. All for an amazing price – book here.
 SEE 
Things to do in Ljubljana
On the Beaten Track: Although Instagram is a wonderful source of wanderlust, it's a dangerous one. Often these "hidden gems" are swamped with tourists and the #nofilter is instead hours of waiting for perfect lighting and sneaky photography tweaks, but after all the Insta drooling we did of Lake Bled we are proud to announce it simply was #amazing. As mentioned earlier, if you can visit Lake Bled in Winter (we visited mid November) then we'd definitely recommend it. The Autumnal colours, crisp sunshine and lack of tourists made it the perfect time to visit.
How to get from Ljubljana to Lake Bled
The Ljubljana to Bled bus is €12 each for a return ticket and the journey took 1 hour 15 minutes. The bus leaves from Ljubljana bus station which is right in front of the train station on Trg Osvobodilne.
For the Ljubljana to Bled bus timetable click here.
When you arrive at the bus stop in Bled it's a downhill walk to the Lake, where there are two popular options for reaching the island. You can ride in a traditional boat for €13 per person which is rowed by a local person (so your time on the island is dependent on the others you travelled on the boat with). Or (with visions of The Notebook boat scene in mind) you can rent your own private row boat for €10 for an hour – this was plenty time despite the chaos that happened next. . .
This is where the Instagram lies come into force, as I had romantic visions of Daz charmingly rowing as I snapped away at the beautiful scenery. Instead it was a lot of loud swearing and huffing as apparently "ROWING IS A LOT BLOODY HARDER THAN IT LOOKS" so much so, the wee old man we hired the boat from was even shouting at us from the shore as we frantically went around in circles. Although we did get a decent snap or two, I understand how the lake earned its name – it was literally blood, sweat and tears that got us to the island.
Once on the island, there is about 40 million steps (okay, maybe 20) when upon completion, you'll be faced with two choices:
a) You can visit the church where a local legend says if you climb even more steps, ring the bell and make a wish, your wish will come true and all that mystical jazz or
b) Go for ice cream.
Naturally we went for the second option as my only wish was that I'd never have to go on a rowing boat with Darren again except, unfortunately we were on an island and I'm not the best of swimmers.
After our nautical drama was over, Daz claimed he deserved a pint. For this reason, we walked back up towards the bus stop and enjoyed a drink on the super sunny terrace of Caffe Peglez'n. It has THEE cutest interiors, spotty table cloths & handmade hearts – sort of like going for tea at your grandma's house. The perfect way to end our Lake Bled day trip.
Fancy a private tour instead of public transport?
Instead of taking public transport from Lubljana to Lake Bled, you can book a guided tour which will pick you up from your accommodation in Ljubljana. Enjoy a sightseeing tour of Bled including the castle and the Lake with a friendly, informative guide. More information and prices here.
Things to do in Ljubljana
Off the Beaten Track: From the bus station it's a 10 minute walk to Metelkova mesto. No Ljubljana itinerary would be complete without a visit here.
As mentioned in previous posts, I have this thing with street art so hearing it was one of the largest, and arguably most successful, urban squats in Europe I knew there'd be a scribble or two. What I didn't expect of an old army base was a 12,500 sq. m self-proclaimed city covered in sculpture, mosaic and spray paint. "It has become the leading centre of underground music and art in the region", according to the Guardian (so it must be true).
Unfortunately, our Flixbus chariot awaited so we had no time to experience Metelkova in the evening, however every year it hosts more than 1,500 alternative events celebrating a wide spectrum of subcultures, from theatre performances and punk concerts to disability workshops and LGBT club nights. Definitely add it to your list of things to do in Ljubljana, as it was one of our favourite street art galleries in Europe.
 SNAP 
Best photo spots in Ljubljana
Although Metelkova is very insta worthy please remember people do actually live there, it is not a zoo. There are rather explicit signs from disgruntled residents explaining this so just a heads up if you tend to get a lil' snappy happy – photograph the buildings only.
The architecture in Ljubljana is beautiful (especially a fabulous Franciscan pink parish church in Prešeren square) so there is no shortage of photo opportunity, however make sure you squeeze in a stroll across The Dragon Bridge into your Ljubljana itinerary. En-route to the many restaurants & bars along the river, between Kopitar Street (Kopitarjeva ulica) and Ressel Street (Resljeva cesta) is the majestic Dragon Bridge.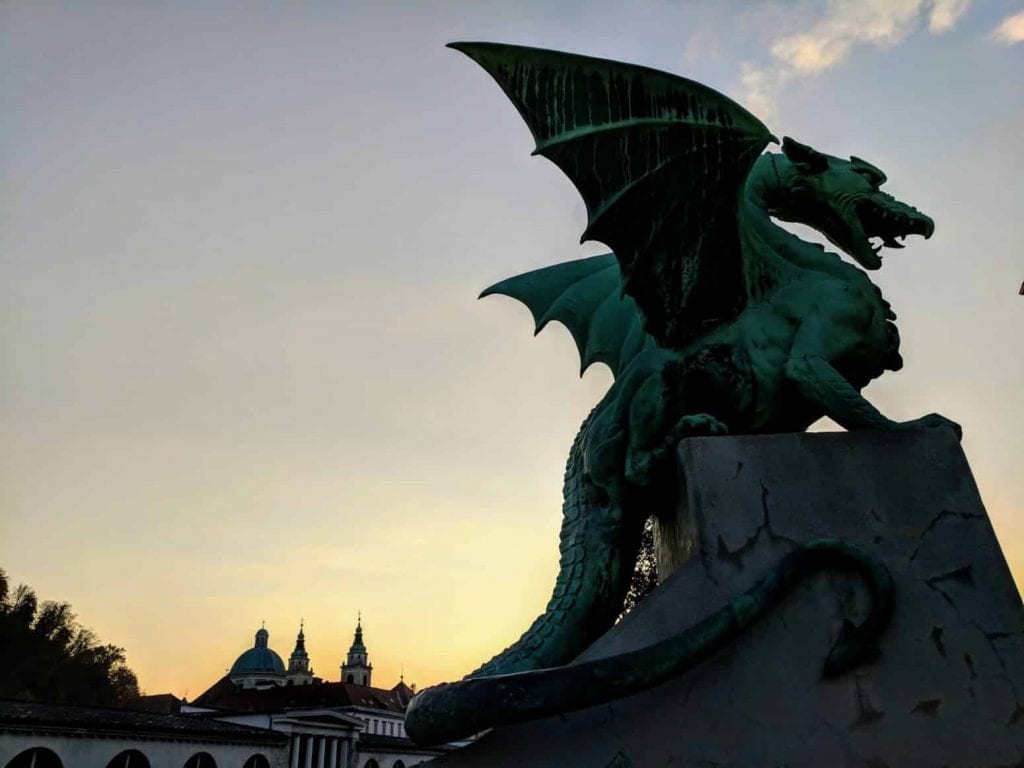 For more photos of our Slovenian adventure, please take a peek at our gallery.
Please note this post may contain affiliate links, which add no extra cost to your purchase but earns us a small commission to keep the adventure going.