LJUBLJANA TO LAKE BLED – THE ULTIMATE GUIDE
LJUBLJANA TO LAKE BLED – THE ULTIMATE GUIDE
Imagine being the youngest person to visit every country in the world and then being asked to choose your favourite place. James Asquith (founder of app Holiday Swap) did just that, and his response? Lake Bled, Slovenia. If we had to choose, our Lake Bled day trip would be a definite highlight from our 3 month European tour. This guide covers Ljubljana to Lake Bled and although Bled steals most of the limelight, Ljubljana was one of the most surprising cities of our entire trip. We expected a quaint, tourist town instead we were mesmerised by a stunning city with unbelievable food, people and architecture.
SPEND
How Much To Budget For Ljubljana
As we decided to visit Lake Bled in Winter, travel prices were crazy cheap! After our 3 days in Venice, we took a Flixbus to Ljubljana for £14 each (it took approx. 4 hours). Our budget was £60 per day but our actual spend was £98 because the food was simply too good and the idiot flashpackers we are, wined & dined ourselves silly.
Find our more about what we spent in Ljubljana in our backpacking Europe cost post.
SLEEP
 Best Accommodation In Ljubljana
During our time in Ljubljana, we stayed in OH Apartments & Rooms. We paid £27.50 per night (2 nights) for a huge double bed and one of the nicest hosts we have ever dealt with. He offered many recommendations for things to do in Ljubljana as well as bus times and insider tips for Ljubljana to Lake Bled. The room was en-suite with a fabulous shower, hair dryer, fluffy white towels, tea & coffee – what more could you want for less than £15 each per night?!
SCOFF
Recommended Restaurants In Ljubljana
It was a 10-15 minute walk into the town centre, where by the river were numerous restaurants and bars all with outside seating. If like us, you're a sucker for eating outdoors (particularly when there's heated lamps and even heaters built into table legs!) then Ljubljana has nailed Winter alfresco.
Wandering along the riverside – both still snuffling from our cold a few days previous – Slovenska Hisa instantly looked inviting, with its fluffy faux fur seats and oodles of locals with spotty pots of tea outside. As self-confessed brunch snobs this place did not disappoint. We both had scrambled eggs with various local meats and ample fresh bread with those spotty pots of tea included all for a grand total of €5 yes, FIVE EUROS each. Later I discovered Slovenska Hisa featured in Culture Trip's Top 10 Brunch Spots for Ljubljana, proving it rightly deserves our brunch snob appreciation.
A culinary high five also goes to Pop's Place, Burger Bar – as it says on the tin these guys made incredible burgers with a craft beer menu to match. The beer choice was so good we simply shut our eyes and pointed (although the waiter was very helpful with recommendations). If you fancy yourself as a craft beer connoisseur and enjoy reasonably priced food in very hipster-esque surroundings, then this is your spot.
For the classy sorts (like we sometimes pretend we are) we recommend the restaurant Julija.  Although a more linen table cloth/better to book type affair, the pricing was very reasonable (even by two Scots' standards). We didn't book, but did get the last table so it's worth inquiring ahead. Daz would've gave it 5 stars for the waiter's appreciation of Scottish Football fans alone. It was also bustling with locals which always says something about a restaurant's reputation. For unbeatable goulash, traditional cheese dumplings and even complimentary Teranov Liker aperitifs then we cannot recommend Julija enough.
SIP
 Recommended Bars In Ljubljana
We were pleasantly surprised how many wine tasting tours were offered here. On our last day there was a wine event where you paid €5 deposit for your glass and a supplementary couple of euros for each glass of wine, with stalls of local wineries conga-ing all over the town centre. The event was named Ljubljana Wine Route and marks St. Martin's Day, when, according to Slovenian tradition, grapes must officially turn to wine (anyone else agree this should officially be a law!?). Ljubljana Wine Route brings together winemakers from all the wine-growing regions of Slovenia and occurs November 4th & November 11th (double check next year's dates if planning a trip here in the future!)
Not in town during the Ljubljana Wine Route?
Instead, do a food & wine tour in Ljubljana any time of year! Enjoy 3.5 hours sampling over 9 traditional dishes and 4 wines whilst learning the city's history through your taste buds. All for an amazing price –
book here
.
SNAP
Best Photo Spots In Ljubljana
Although Metelkova is very insta worthy please remember people do actually live there, it is not a zoo. There are rather explicit signs from disgruntled residents explaining this so just a heads up if you tend to get a lil' snappy happy – photograph the buildings only.
The architecture in Ljubljana is beautiful (especially a fabulous Franciscan pink parish church in Prešeren square) so there is no shortage of photo opportunity, however make sure you squeeze in a stroll across The Dragon Bridge into your Ljubljana itinerary. En-route to the many restaurants & bars along the river, between Kopitar Street (Kopitarjeva ulica) and Ressel Street (Resljeva cesta) is the majestic Dragon Bridge.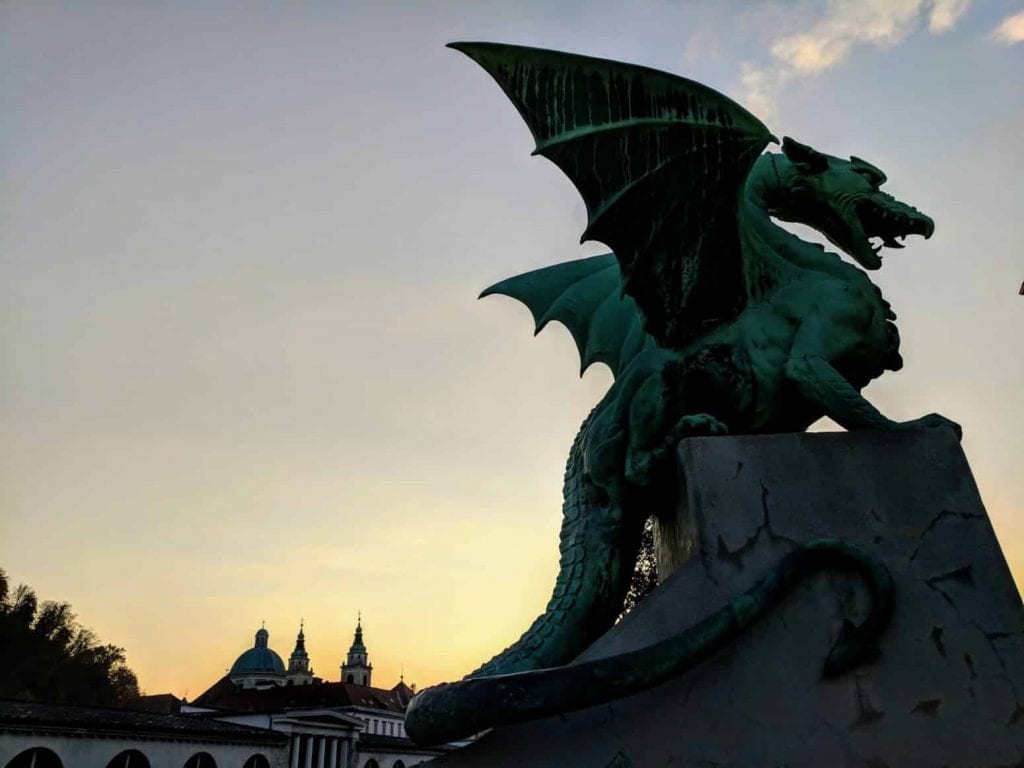 Please note this post may contain affiliate links, which add no extra cost to your purchase and earns us a small commission.