3 DAYS IN KRAKOW – THE ULTIMATE ITINERARY
3 DAYS IN KRAKOW – THE ULTIMATE ITINERARY
Whether backpackers looking for a budget friendly city, couples looking for a romantic weekend away, visiting Krakow in Winter or exploring in the sunshine – this guide has everything you need to know. Not only providing our best tips for where to stay, restaurant recommendations and the instagrammable spots but also includes must-do historical day trips from Krakow. It is difficult to put into words our visit to Auschwitz but we feel it is a vital visit during your 3 days in Krakow as well as the unmissable Wieliczka Salt Mines.
SPEND
What Is The Currency In Krakow?
The currency in Krakow is Polish Złoty, so no need for Euros!
Generally, it is a very affordable city with the average beer in market square being 7zł, approx. £1.50. A shot of the famous Polish Vodka can be less than £1 in some bars and you can get hostel dorm beds for less than a tenner.
How much does 3 months in Europe cost?
Read our backpacking Europe cost breakdown to learn exactly what we spent during our 3 months in Europe. Covering 12 countries (15 cities) it divides our expenses into transport, accommodation, food and activities. The post even includes a free downloadable budget tracker so your backpacking Europe dreams can soon become reality!
Daily Budget: For our 3 days in Krakow we budgeted £40 a day (between two) for all meals and drinks and we came in under budget! This was despite visiting the absolute tourist traps such as Hard Rock Café and a few cake and coffee stops too – so definitely £40 a day is more than enough.
Transport: Getting there was also rather cheap, we took a bus from Prague to Krakow and although it took 8 hours it did only cost £15 through Flixbus. Pack plenty snacks, download a few movies and don't forget a portable charger, then you're good to go! If you're flying, save even more money by booking your airport transfer here – it's only £17 for upto a group of 4 people from door to door!
Accommodation: Our accommodation in Krakow was £30 a night, which is the average price for a basic hotel and did include breakfast.
Day trips: Our biggest expense was the Auschwitz & Salt Mines day trip. We paid £110 for two people (for all the info on what this includes see below.) However we felt it was worth every penny and one of the most surreal things to do in Krakow.
Did you know we offer a free downloadable budget tracker on our resources page? As well as an interactive packing list to make sure you're ready for your European adventure! Take a look at our resources page.
Want to save even more money in Krakow?
For discounted day trips, cheap airport transfers and money off the top tourist attractions, take a look here.
SLEEP
Where To Stay In Krakow
We stayed in the IBIS Budget for our 3 days in Krakow and it was perfect. Next door there is another IBIS so be careful not to mix them up.
We paid £30 a night, including a traditional buffet style breakfast with meats, cheeses and cereals. If on a budget, a sneaky tip is to prepare sandwiches from breakfast to take with you for lunch – although Krakow is generally very affordable, this tip might save you a few pennies elsewhere.
Overall our room was clean, modern and the bed was very comfortable. It is a perfect place to stay for all things to do in Krakow as it is within walking distance of old town, it's next door to a huge shopping centre and the train station.
Airbnb is also a great affordable option for Krakow. By using our referral link you'll even get £25 off your first booking, making it even more affordable!
SCOFF
The Best Krakow Cafes In Old Town
If you're coffee and cake obsessed like us, you will be spoilt for choice with the Krakow cafes. Our favourite was Zarowka Café which was the perfect escape from the chill of Krakow in Winter. Set in a beautiful courtyard with blankets, heaters and a great selection of herbal teas – what more could you ask for to warm you up after a morning of exploring. Well, cake. The cake was 10/10 too with other traditional lunch and breakfast options available. It was a definite hidden gem, off the main street and away from the hustle and bustle allowing us to rejuvenate and warm up before a climb up Wawel Hill.
There were many Krakow cafes that caught our eye, however Camelot café is particularly unique. Considered a cultural institution as the famous Loch Camelot theatre group perform their quaint and quirky works in the café's basement. If your 3 days in Krakow fall over a weekend, definitely check out their performance schedule and prices here.
Try Traditional Krakow Food
You cannot spend 3 days in Krakow without trying it's famous zapiekanki, the most popular Krakow street food. It is essentially a mini baguette imitating a pizza. Usually topped with melted cheese, meat and mushrooms or other vegetables. The best part is they only cost £1- £2 so perfect if on a budget or time limit and can be found very easily across Krakow. Although the Kazimierz district is rumoured to offer the tastiest.
Fancy the best food tour in Krakow?
If you fancy sampling 10+ traditional Polish foods and learning how they're made plus street market specialities and a shot of Polish liquor then THIS is the tour for you. . . did we mention it's less than £18 per person?
Indulge In The Treats Of The Krakow Jewish Quarter
Kazimierz, also known as the Jewish Quarter in Krakow, is an eclectic mix of bohemian themed bars, quirky cafes and indie art galleries. Steeped in history, it was the centre of Jewish life in Kraków for over 500 years, before it was destroyed during World War II. Food is particularly cheap in this trendy neighbourhood and no 3 days in Krakow would be complete without a visit to Hamsa Hummus & Happiness Israeli Restobar. Exactly as the name describes expect to leave with belly full of hummus and a heart full of happiness. The quirky décor and "Make hummus" wall art are also an Insta-fan favourite.
SIP
Recommended Bars In Krakow
We're going to let you on a confession. Admittedly yes, Hard Rock Café is one of the biggest tourist traps however, it has become somewhat a comfort and tradition to visit if we pass one on our travels. From Venice to Vegas, Iceland to Hawaii we have drank and dined in many Hard Rock Cafes and haven't found one yet we didn't enjoy. We are fully aware there are likely cheaper and more atmospheric places in Krakow to enjoy a tipple or two however after a long day it's often easiest to go with familiarity. Expect super friendly staff and delicious cocktails overlooking the famous market square and Cloth Hall, surrounded by the usual rock & roll memorabilia, including a fab cymbal ceiling. It is also one of the few places that offer a Happy Hour in Krakow (although it starts at 10pm!)
DAY TRIPS FROM KRAKOW
Auschwitz And Birkenau Concentration Camps
During your 3 days in Krakow we feel making the effort to learn about the tragic treatment of Jews during World War II is essential. Undoubtedly, a profoundly thought-provoking experience, which will not only educate but ultimately make you question your perspective on humanity.
As it is 75km west of the city there are several ways to get to Oświęcim/Auschwitz. The most straightforward (although more expensive) option is to book an organised tour. We chose Krakow Trip as our tour operator and could not recommend them enough. It cost 520zł (approx. £110) for both of us for the whole day tour.
Our tour guide picked us up straight from our hotel lobby and we were joined by 3 other couples in a small comfortable minivan for the drive. During the journey our guide played a documentary style video offering a general background into the atrocities we were soon to see for ourselves at Auschwitz.
Upon arrival we joined a much larger group and were given head sets in order to listen as a guide walked us through the horrific daily life of Jewish prisoners and the traumatic events of the holocaust. It was an overwhelming experience particularly significant as we visited Krakow in November and our visit to Auschwitz fell on Remembrance day, November 11th.
We were then picked up again by our guide and taken the short drive to Birkenau. The sheer size of the camp is overwhelming despite the majority of it being ruins. The harrowing train tracks remains intact, alongside an example of the carriages used to transport the victims between camps and thousands of meters of barbed wire fences.
Within the Auschwitz network, Birkenau was the largest of the camps. Estimates are that 90% of the victims at Auschwitz died in Birkenau, which equates to around 1 million people, 9 out of 10 were Jews.
Although you can watch documentaries and films about Auschwitz nothing can truly prepare you for how you feel when you step foot into the camps. It is not only a history lesson, it is reality and one which is hard to imagine as you enter the same yards, rooms and buildings that so many people never left.
Other Options For The Krakow Auschwitz Tour 
Take A Local Bus From Krakow To Auschwitz
You can take a bus from Krakow to Auschwitz without a tour guide however it will take longer and be incredibly busy. Buses regularly depart the main bus station in Krakow (Kraków MDA, ul. Bosacka 18) for Oświęcim (Auschwitz) however double check the end destination as not all stop at the Auschwitz museum entrance (called 'Oświęcim Muzeum') and instead will drop you off at the bus station which is at the opposite end of town. The journey is around 90 minutes and costs 14zł (approx. £3) Bus times can be found here.
Take A Train From Krakow To Auschwitz
Trains run pretty much hourly from Krakow to Oświęcim. However, the journey takes around 1 hour 45 upto 2 hours. Although cheap at only 9zł this does mean they are crazily crowded, more so on weekends. As the Oświęcim station is directly between Auschwitz I and Auschwitz II Birkenau you will then need to get a bus. Local buses numbered 24-29 all stop at Auschwitz I and a ticket costs 3zł. From there, museum buses regularly shuttle visitors between the two camps, or catch a taxi which will cost around 15zł.
Although entrance to Auschwitz is free, we felt paying for an organised tour with a local guide was far more informative than if we were to walk around on our own.
Also to avoid confusion between switching busses and trains and the extra time public transport would take, for us the private pick up was far more convenient given we only had 3 days in Krakow.
Furthermore, the price also included the Wieliczka Salt Mines which were incredibly fascinating and a definite highlight of things to do in Krakow.
Wieliczka Salt Mines
Firstly, if you are at all claustrophobic this tour will prove incredibly challenging. As you are immediately faced with over 800 steps underground, initially 64m down and then a further 135m further down, it is not for the faint hearted. Expect an astonishing 3km system of tunnels and caves alongside fascinating stories of the salt mining history. In total there are 20 chambers to visit, the "grand finale" as such being the Chapel of St. King which is astonishing and frankly, you forget you are underground when surrounded by such splendour.
Important Travel Tips For Wieliczka Salt Mines
Tickets are 89zł (around £18) if you're a foreign visitor, or discounted to 59zł if you are Polish. Prices vary slightly depending on the season, however our ticket price was included within our tour fee.
The average time to complete the tour of the salt mines and museum is 3 hours (we only did the salt mines.)
You are asked to pay a fee for a photography permit, even if just using a mobile phone. This however was not policed, and we were confused if it was mandatory (although it states on the museum website there was no manning of this)
Bearing in mind you are underground so temperatures range between 14° and 16° C so wear suitable clothing. This includes comfortable shoes for the 800 steps down!
Don't panic however, you do not need to climb the 800 steps back up. There is a lift which I was incredibly nervous of. In all honesty, it was over in a matter of a minute or two and I'm definitely glad I sucked up my fear and got in it, otherwise I'd probably still be stranded down there!
SNAP
St. Mary's Basilica
One of the first things to do in Krakow is snap that postcard picture of the stunning St Mary's Basilica which towers over the main square. It is from this striking gothic structure that the hejnał mariacki – the city's famous bugle call – is played every hour on the hour. A fascinating tradition, the tune stops mid-melody in honour of the mythical trumpeter who was shot in the neck while belatedly warning the city of Mongol invaders. It is free to enter the church for worship but a small entry fee of 10zł (approx. £2) is requested of tourists wishing to take photos. From April until December you can also access the Mariacki Tower however this will require purchasing a further ticket for 15zł.
Floriańska Gate
This Gothic gateway tower, its adjacent towers plus the Barbican are the only architectural survivors of Krakow's ancient defences, which once upon a time surrounded the old town. Traditionally used by royalty en-route to Wavel castle, today Floriańska Gate remains the main entrance to Krakow's Old Town. We found the local artists selling their abundance of paintings particularly charming to photograph. If visiting Krakow in April to October then you will be able to access the City Defensive Walls Museum and take the most stunning photos from the balcony overlooking the vibrant Floriańska Street.
Street Art In The Jewish Quarter
There are so many quirky photo opportunities within the Jewish Quarter from the eclectic interiors of the numerous bars and cafes to the quaint architecture of this unique neighbourhood. Particularly interesting, is the abundance of murals and street art within the Jewish Quarter – ideal backdrops for those insta-worthy street style snaps.
Want the best tour of the Jewish Quarter in Krakow?
Later we discovered you can get a guided tour of the Jewish Quarter by SEGWAY! We would have loved time to do this and to have a guide talk us through the history properly. The tours are less than £20 per person for 2 hours!
Book Here
.
For more photos of our adventure, please take a peek at our Poland gallery.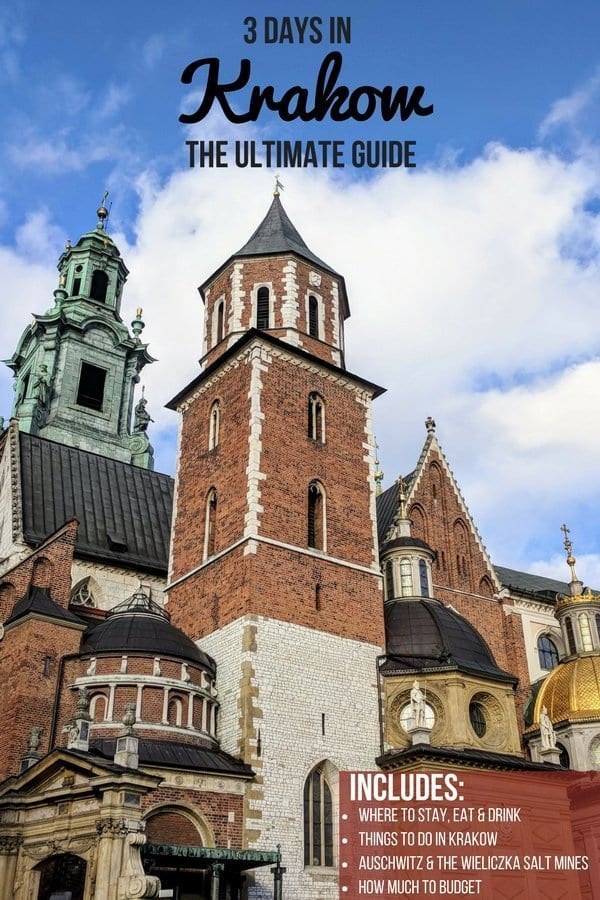 Please note this post may contain affiliate links, which add no extra cost to your purchase but earns us a small commission.